Inktober Tattoo Designs and Halloween Specials!
I've been working on drawings for the Inktober art prompts, and I would absolutely love to tattoo any and all of them! I have everything I've drawn so far, posted, and am also re-posting my Halloween sheet. Everything on the Halloween sheet is $60-$100each until the end of the month. Pricing on the Inktober designs varies, but they are definitely at a discounted rate. Let me know if you want any of them tattooed! You can email me directly, at noomx.art@gmail.com, or you can m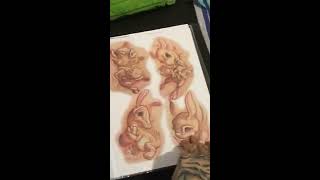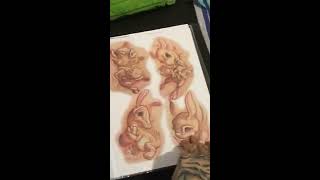 Lots of Ready-to-go Custom Tattoos!!
Hi guys, I have been very busy getting a book together for all of my doodles that have yet to become tattoos. These are all custom drawn to be used only once. So, once one of the drawings in the book is tattooed, it will no longer be available. This keeps them more meaningful, or at least more unique, in my opinion. I also have a couple pages included of very small flash tattoos that will be used more than once because most of them were from Friday 13th events I drew for, and
Tattooing Original Artwork
It is always an honor to be given the opportunity to recreate one of my original drawings/paintings in the form of a tattoo. It is a feeling that is hard to describe in words. To feel that someone likes my art enough to wear it permanently, is one of the most fulfilling things I could ever seek to attain. Last week, I was given this opportunity. Though almost every tattoo I complete is an original, hand-drawn piece, it feels a little more special when someone asks for somethi